Recruitment – Five Year History Help
Five-Year Employment History – Candidate Guidance
The most recent three years of your work history must be verified by referees before we can offer a
contract. The remaining two years must be verified within 12 weeks of signing your contract. Please
be aware that we are only requesting confirmation of dates from your referees, we do not ask for any
judgement of capability.
As part of the BS7858 Screening, we will review your education, employment, and other activities for
the past 5 years. When completing your Five-Year Work History form, please ensure you select the
correct Activity Type for each entry. When providing employment or education referees, it must be a
professional/business email address. If for any reason this is not possible, you will need to contact
the Recruitment department and they will advise you.
Remember that you need to start with the most recent employment period as the first entry and
work your way back to five years ago.
Personal email addresses are only accepted for character referees confirming unemployment. For
unemployment periods exceeding 3 months, you will be asked at a later stage for further evidence
confirming this period, e.g., your HMRC tax record or bank statements.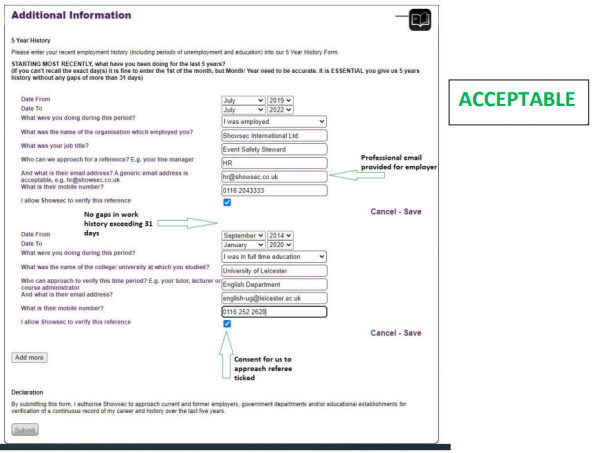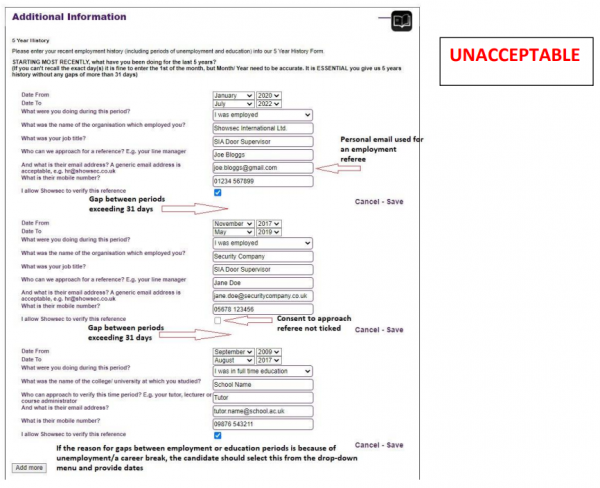 If you are not able to provide a suitable referee email address, or we cannot get in contact with your
referee, we may contact you later in your screening period to provide further evidence:
1) The easiest option is to upload your HMRC Tax Record to your portal – you can upload your
online tax record to achieve the most efficient screening experience. This can be found at
https://www.gov.uk/personal-tax-account. For instructions on how to obtain this online,
please click here [insert instructions for obtaining tax records]. Alternatively, you can call
0300 2003300 (a low-cost number) to order a paper copy. It is a free service, but it can take
up to two weeks to receive it via post. Once received, please email it directly to
screening@showsec.co.uk
OR
2) Provide further supporting documentation – If you don't wish to upload your HMRC
employment history, you can read through the following scenarios. The Screening team will
ask for further evidence, you can use these documents to verify the period in question.
Direct or Agency Employments and Companies that have ceased trading
• Your employment contract showing your start date
• An official letter from the employer showing your start date
• Copies of your first and last payslips
• An official confirmation of long service letter or document showing your start date
• Redundancy or termination letter showing the date the employment ended
• An official letter from the employer showing the date the employment ended
• P45 or P60 for each year of service
• HMRC online Tax Record
Self-Employment
• Letters or documents from HMRC and/or Companies House
• Letters or documents concerning the forming or dissolving of the company from banks, solicitors,
or accountants
• Tax return for each year you were self-employed
• P45 for the period
Education
• Statement of results
• Qualification certificates
• Official letters showing dates of study – start, end or both
Extended Travel Overseas (longer than 31 days)
• Official immigration documents i.e., visas, applications for residency/visas or the right to work
• Passport stamps showing the dates you entered and/or left the countries visited
• Any other official government letters or documents, which confirm the dates you entered and/or
left the countries visited
• Bank statements to show transactions in the countries visited
• Travel tickets and accommodation receipts
• Mobile phone bill showing calls from the countries you visited
Relocated to the UK within the last 5 years or living overseas (for more than 31 days)
• Official immigration documents i.e., visas etc.
• Official immigration letters i.e., applications for residency/visas or the right to work
• Passport stamps showing the dates you entered and/or left the country
• Any other official government letters or documents which confirm the dates you entered and/or
left the country
• Any employment contracts or tax records for the country you were living in
Voluntary employment
• Voluntary employment agreement showing your start date
• An official letter from the employer showing your start date
• Voluntary employment separation agreement
• Voluntary employment termination letter
• An official letter from the employer showing the date the employment ended
HM Forces Service including Reserves
• Certificate of Service
• Discharge Certificate
• Statement of Service
• P45
Registered Unemployment (Claiming Benefits)
• Proof of claim letter
• Letter of entitlement
• Official HMRC or DWP letters or documents
Career Break (not working/claiming or any of the above activities for more than 31 days)
• Official HMRC or DWP letters or documents i.e., maternity payments, child benefit etc.
• Official immigration letters or documents i.e., applications for residency/asylum or the right to
work
• Bank statements for the period showing how you financially supported yourself and that you were
not receiving a regular income from employment