Showsec's Successful Debut in Egypt with Backstreet Boys Concert
We had the privilege of providing consultative services on security, safety, and crowd management at the Backstreet Boys concert in New Cairo, Egypt. It marked our first venture in the country, and the experience was truly remarkable.
The Backstreet Boys, renowned for their hits like "I Want It That Way" and "Everybody," headlined the event. Witnessing the excitement of thousands of fans eager to see their favourite band perform live was a joyous spectacle. The atmosphere was electric, and being part of it was incredible.
New Cairo, Egypt, is a relatively new city situated east of Cairo, encompassing universities, residential areas, and commercial developments. Our successful debut in Egypt with the Backstreet Boys concert fills us with pride as we contributed to making it happen. This opportunity has instilled great anticipation for future events in the country.
Aaron Jervis, the area manager for Leeds, shared his insights: "Working in the heat posed a significant challenge for the team, but we were provided with good food, and the locals showed immense respect and hospitality. Language barriers were also overcome with the help of many English-speaking individuals who assisted with translation. Working on the sandy terrain was a unique experience, but our staff readily adapted to the conditions."
In conclusion, the Backstreet Boys concert in New Cairo, Egypt, achieved resounding success, and we are grateful to have been part of it. Despite the challenges, our team provided valuable advice on crowd management and security, ensuring a safe and secure environment for everyone attending the show. The thousands of fans who were present will likely cherish the memories for years to come, and we take pride in our role in making it all possible.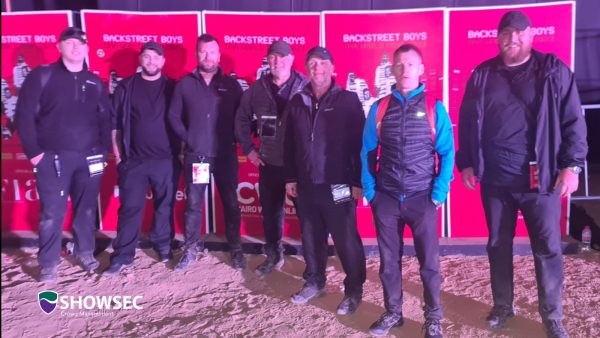 Left to right: Sam Stanton – Operations Executive, James Oldroyd – Operations Executive, Ieuan Fury – Regional Manager, Dave Bradshaw – Casual Head of Security, Dave Stott – Casual Head of Security, Mark Logan – Co-CEO,  Aaron Jervis – Area Manager.